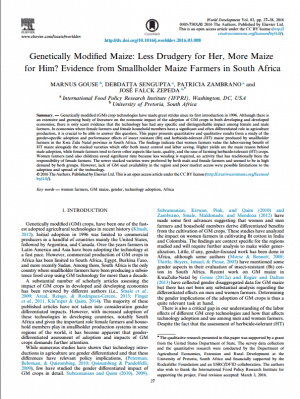 Policy highlights:
Field research in Kwazulu Natal in South Africa shows that women are relatively slow in adopting genetically modified maize varieties that are insect repellent and herbicide resistant. The main reasons for this are the costs of hybrid seeds and limited knowledge about hybrid maize varieties.
However, the benefits of these varieties were relatively large for women, and to a lesser extent for children, because weeding is usually done by women and children.
Women were able to spend the time saved on weeding on other activities, such as cooking, cleaning and working in the vegetable garden, while children had more time to relax and do schoolwork.
The advantages of genetically modified varieties can be made more accessible by eliminating the constraints on input markets, including affordability, timely and predictable availability, and support through training and information dissemination. This requires long-term investment in support services and infrastructure as well as political will.