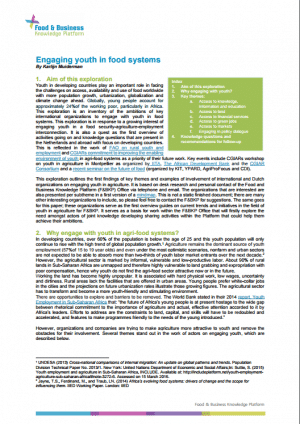 Policy highlights:
Africa's agricultural sector is characterized by informal and low-productive labour and is associated with hard physical work, low wages and uncertainty. Working the land has become highly unpopular, particularly among African youth. To secure food production and future employment, it is therefore imperative that the agricultural sector is transformed.
NGOs and companies are trying to make agriculture more attractive to young people and remove obstacles to their involvement, for example by improving their access to information, education, land, financial services and markets.
Strategies should focus on promoting youth entrepreneurship and innovation, challenging cultural and financial barriers, and engaging young people in policy dialogue to allow them to take a leadership role in agriculture.