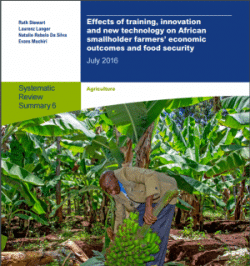 Policy highlights:
The African agricultural sector is one-third as productive as the global agricultural sector. A variety of programmes – implementing training and introducing new innovations – aims to release the sector's untapped potential. Little is known however, about whether such training programmes are effective at improving smallholders' food security and economic outcomes.
Evidence identified in this systematic review does not provide definitive conclusions on the effects of training and new technology interventions due to the limited availability and quality of studies into the subject.
Analysis does show that agricultural input innovations (introducing new or improved agricultural products) increased the nutritional status of farming households, and to a lesser degree the value of farmers' harvest. No evidence was found showing that training programmes increase farmers' harvests in general.