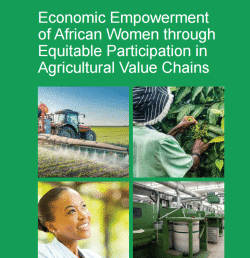 Policy highlights:
Women make up almost 50% of the agricultural labour force in Sub-Saharan Africa. They work primarily in smallholder production, but they receive a significantly lower share of income than men working in the same sub-sector. Empowering women is essential for the further promotion of Africa's economic transformation.
To improve the position of women in agriculture, they should be given training and access to finance to help them develop their agribusiness enterprises along the value chain.
Recommendations include: 1) helping women entrepreneurs create products that can be branded as coming from women-led value chains; 2) expanding women-inclusive cooperative programmes that increase productivity; 3)establishing market links through the private sector, including international buyers and large-scale industrial processors; 4) providing technical assistance and business skills training to women farmers; and 5) addressing structural issues (e.g. land tenure and gender-neutral agricultural policy) through advocacy and engagement with governments.