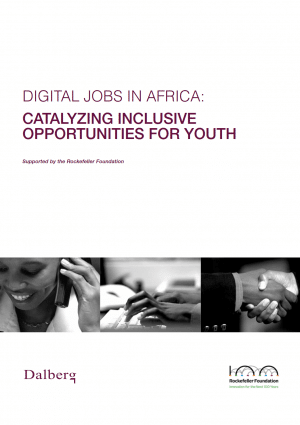 Policy highlights:
The increased availability of ICT in the developing world has far-reaching economic and social impacts. For example, a 10% increase in telephone, mobile phone, internet and broadband usage can lead to a 0.73–1.38% increase in GDP. This makes jobs in the digital economy a potential pathway out of poverty for African youth.
Jobs in ICT are usually in the formal sector and provide higher wages and long-term job stability – which are key to escaping poverty. Currently more youngsters (2 million/year) enter the job market than jobs are created (41,000/year). Maximizing digital jobs opportunities requires growing the digital market, which means investing in improving labour supply, raising demand and creating an environment in which the two are matched.
For example, demand can be increased by supporting incubators, increasing the financial incentives to employ young people, improving the business environment and market research. On the supply side, policy should focus on supporting capacity building, job readiness and skills, matching youth to digital economy jobs through career websites or platforms, and brokering relationships and mapping mismatches.