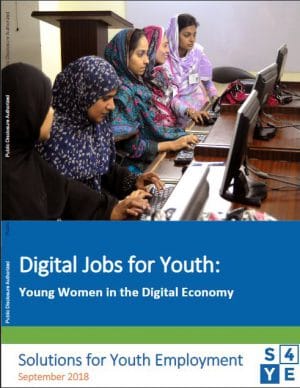 Policy highlights:
Overall, a similar proportion of women and men use ICT at work. However, women are less likely than men to do work that uses advanced digital skills (6% vs 9%) or to be a digital specialist (3% vs 5%). The flexibility offered by many digital jobs can be especially beneficial to women, who often combine work with other responsibilities. However, it is not enough to create more jobs, there is a need for good quality jobs. What a good quality job entails is diverse and can depend on factors like age, income, race, class, urban/rural differences and disabilities.
Policies should combine a focus on on the supply and demand side, some policies work for both at the same time. For example, an intervention can focus on reducing biases against women by parents, spouses, employers and women themselves. Examples of promising strategies for improving digital employment opportunities for women include: (1) impact sourcing, which can connect vulnerable young women with microwork and business process outsourcing opportunities and provide on-the-job skills training, or (2) job-matching platforms, which can help young women to develop professional networks and identify female mentors.
This report introduces a typology of digitial jobs that require diverse skill sets. Different groups of women (e.g. those in rural areas) benefit from different types of employment interventions depending on factors like skill level and mobility.
Recommendations for policymakers based on the 19 case studies in this report include: (1) Having a broad understanding of the local context and specific constraints. This is important considering the rapidly-changing context of the digital economy. For women, understanding roles, needs, opportunities and limitations is key. (2) Supply-side interventions should include a targeted, integrated package of services and a proper monitoring and evaluation system. The recruitment of women can be an issue, due to their time and financial constraints as well as their household responsibilities. Blended training that includes online courses can offer solutions, while on-the-job learning has yielded promising results in terms of showing women how these skills can offer them opportunities. The proper screening of participants is important for continued engagement, to ensure that programmes truly meet the needs, abilities and ambitions of the beneficiaries. Finally, an intervention can be more successful when it builds self-confidence. This can be done through interactive learning experiences, building communication and leadership skills, and providing female role models.