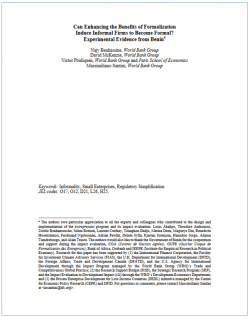 Policy highlights:
In April 2014, the Government of Benin launched the entreprenant status, a simplified and free legal regime offered to small informal businesses to enter the formal economy. This paper provides evidence from an African context on the willingness of informal firms to register after the introduction of this new status, and tests the effectiveness of supplementary efforts to enhance the presumed benefits of formalization by facilitating its links to government training programs, support to open bank accounts, and tax mediation services.
Research shows that only few firms register when just given information about the new regime, but 9.6 percentage points more register when they were visited in person and the benefits were explained. The full package of supplementary efforts boosts the impact on the formalization rate to 16.3 percentage points, demonstrating that enhancing the benefits of formalization does induce more firms to formalize. Firms that are larger, and that look more like formal firms to begin with, are more likely to formalize, providing guidance for better targeting of such policies.
However, formalization appears to offer limited benefits to the firms, and the costs of personalized assistance are high, suggesting that such enhanced formalization efforts are unlikely to pass cost-benefit tests.