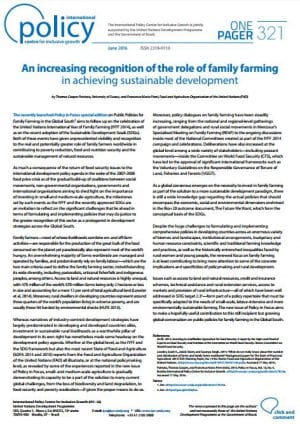 Policy highlights:
The vast majority of farms worldwide are family farms. Most are small and together they occupy only a small proportion of the total farmland. Of the 570 million farms, 475 million are less than 2 hectares in size and account for just 12% of all the land used for farming.
Small and medium-sized farms have started to show their potential for solving global challenges, such as food security, poverty and biodiversity loss.
There is a growing consensus on the need to invest in family farming as part of the solution to a more sustainable development paradigm.
However, more needs to be known about how to integrate family farming into the Sustainable Development Goals (SDGs), specifically regarding the concrete implications and specificities of family farming.