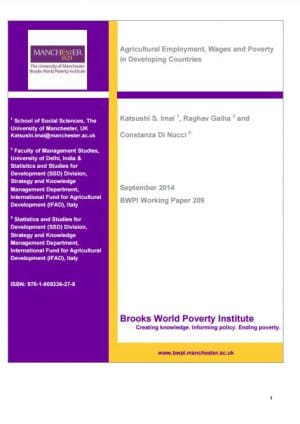 Policy highlights:
Agricultural growth is often discussed as a means to ensure poverty reduction, but little is known about the determinants of agricultural growth.
Econometric analysis of cross-country panel data shows that an increase in agricultural productivity and agricultural employment contributes to non-agricultural growth, overall growth and poverty reduction.
Increases in agricultural productivity are driven by agricultural R&D expenditure, irrigation, fertilizer use, agricultural tractor/machinery use, reduction in inequality of land distributions and reduction in gender inequality.
Policies that can stimulate agricultural growth, and thus help reduce poverty, include government investment in agricultural R&D, promoting access to land for landless or smallholder farmers, and developing institutions and laws that promote equal access to education, health, economic opportunities and property rights for men and women.