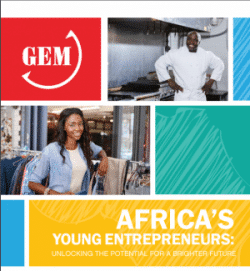 Policy highlights:
Although Sub-Saharan Africa has experienced a decade of consistently high growth, the benefits of this growth have not been divided equally. Young Africans are three times more likely to be unemployed than adults, and a growing young population (62 percent of Sub-Saharan Africans are under 25) requires urgent action on this front.
Evidence from nine Sub-Saharan countries shows that youth generally have positive entrepreneurial attitudes and perceptions. However youth are predominantly trapped in low growth, low innovation businesses in the retail sector that make use of older technology.
To improve the potential of young entrepreneurs policy emphasis should be put on: education and training, business support and advice, business capital and financial support, and ICT and technology.