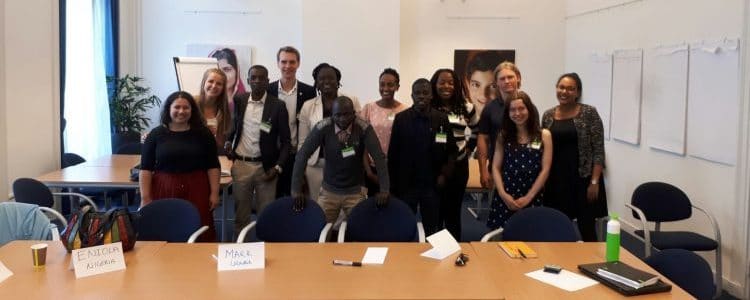 In a roundtable discussion at Oxfam Novib in The Hague, African youth discussed challenges and opportunities related to employment and concluded that to boost youth employment and make policies and programmes more effective, youth should be included more in decision-making processes to increase the level of context-specific knowledge used in policy and programme design. This would make policies and programmes more adapt to situations where corruption is a problem, make design and implementation more inclusive, and relate more to the specific needs of youth.
On 30 May 2017, a group of young Africans, invited by INCLUDE, participated in the conference 'Boosting youth employment: what works and why?'. The next day, six of these young people (from Uganda, Rwanda, Nigeria and Kenya) joined a roundtable discussion at Oxfam Novib in The Hague. The discussion revolved around youth employment and the use of civic space in their countries of origin. The views shared by these young people at the roundtable are reflected in this report.
Oxfam Novib will use the inputs from these youth participants at the upcoming symposium 'Youth working for a sustainable future – What works and why to improve youth employment?', organized on 20 June 2017 by Butterfly Works, Edukans, Hivos, Oxfam Novib, Plan Nederland and Venture Capital for Africa. The symposium will use the four thematic areas presented in the report to discuss what works to realize and improve inclusive youth employment. The inputs from the youth roundtable will be included in the discussion.
See the full report of the roundtable discussion with views of the participants on youth employment and civic space.