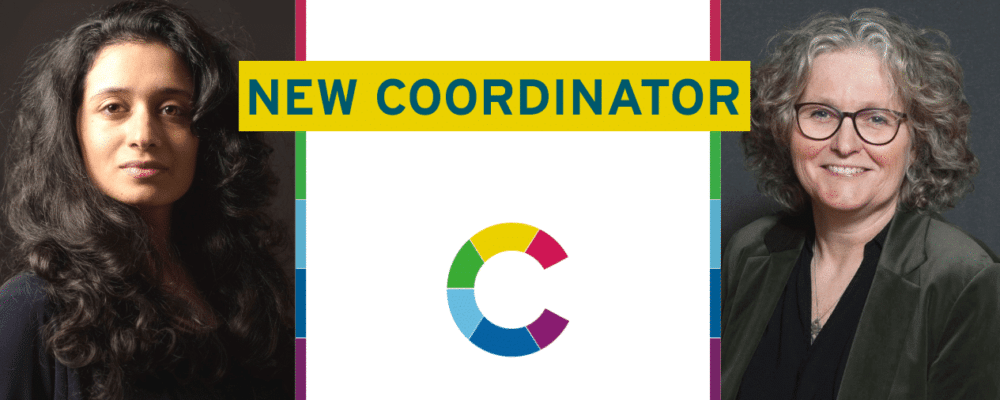 On 1 July, the first transition of coordinators for the INCLUDE knowledge platform Secretariat since its establishment in 2014 will become a reality. Marleen Dekker, the 'face' of the platform and coordinator of INCLUDE, will hand over her role to Anika Altaf.
Marleen Dekker has taken on a new role as director of the African Studies Center (ASCL). She looks back at memorable times as coordinator of INCLUDE. Her eight year involvement boasted a trajectory in which the knowledge platform took shape and established itself; a time in which Marleen thoroughly enjoyed working with INCLUDE's network and platform members, who have provided insights that contributed to making evidence and Southern policy perspectives heard. Marleen mentions the African Policy Dialogues and the multiple research programmes on inclusive development themes, some finalized and some ongoing, as key activities through which this was achieved.
"I am handing over this role to Anika, who has proven, as coordinator of the 'Equity in COVID-19' research programme, to be able to successfully embody the spirit of INCLUDE and promote its ideas and ambitions." Marleen is proud of the current Secretariat, which is shouldering the weight of INCLUDE's work: "The team has shown that even in challenging circumstances, they are able to map out knowledge and evidence and translate this in a succinct manner, without losing sight of what is ongoing in Africa and the Netherlands". Marleen would like to thank all the members who relentlessly shared their vision, knowledge and experience, and remained eager and committed to the cause.
New coordinator Anika Altaf is excited to take on the INCLUDE position from 1 July. Anika, who joined the INCLUDE Secretariat as of 2020 on behalf of The Broker, shares that "INCLUDE is a truly unique knowledge platform. We are driven by knowledge from research, policy and practice and we know how to translate this knowledge and make it useful and accessible to policymakers. We are able to do this due to our strong Secretariat and with the support of INCLUDE's platform members and broader network. Over the past years, INCLUDE has become an important partner for different stakeholders in inclusive development. I am looking forward to continuing these partnerships and working together to promote inclusive policy making in Africa, hopefully in a way that the INCLUDE platform will not be needed in the future."