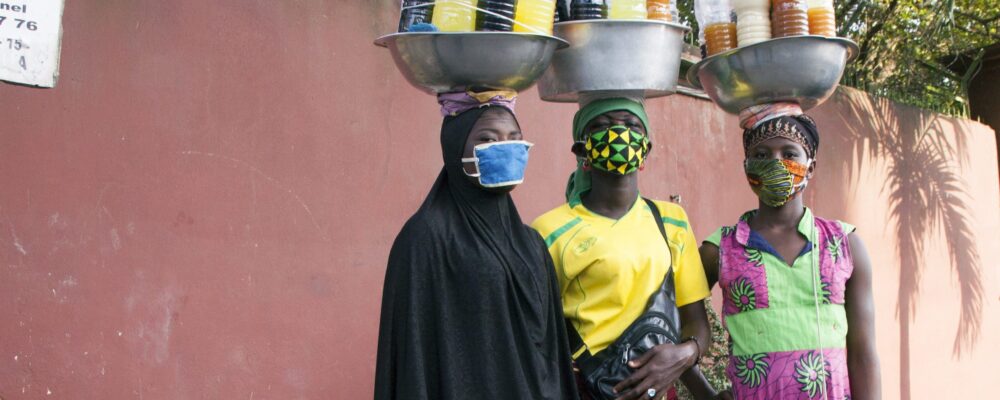 COVID-19 is not merely a health crisis, it is also an economic crisis. While it impacts on workers of all ages, it is youth who are disproportionately at economic risk.  More than one in six young people – often young women – have lost their job since the beginning of the pandemic. In Africa, the pandemic has amplified a number of challenges that young people were already facing, including an increase in insecure or informal work and the lack of social protection. Consequently, researchers undertaking studies in this domain must be mindful of the possible COVID-19 implications. Research teams in the frame of the Boosting Decent Employment for Africa's Youth joint initiative have recognized this and are taking measures to update their plans for data collection and analysis using novel and creative means. The researchers shared their context-specific approaches and the challenges encountered, and highlighted the importance of integrating gender and diversity considerations in their projects during our first virtual roundtable discussion.
The first virtual roundtable discussion on Boosting Decent Employment for Africa's Youth took place on 28 May. It brought together the eight teams conducting in-depth research on the topic and invited guests from INCLUDE, the International Labour Organization (ILO) and Canada's International Development Research Centre (IDRC). The discussion's objectives were twofold: First, it explored the impact of the COVID-19 pandemic on youth employment in Sub-Saharan Africa and highlighted the winning and losing sectors in which youth are represented. Thereafter, the discussion pivoted to the operational impacts on the ongoing research projects and how the teams are responding to these challenges in practical ways.
Young, mostly informal, workers and entrepreneurs are facing a triple shock due to the pandemic. COVID-19 is exacerbating youth's vulnerabilities in the world of work, disrupting their plans for education and training, and delaying their transition into the labour market. This also has consequences for mental health. These were some of the global findings of the latest edition of ILO Monitor: COVID-19 and the world of work presented by Susana Puerto Gonzalez, ILO's Senior Youth Employment Specialist and Coordinator of the Global Initiative on Decent Jobs for Youth. Although the data collected for Africa may be scarce, with 95% of young people in Africa (±15–35 years old) working in the informal economy, it can be assumed they are among those who are, and will be, hardest hit, by the long-term economic consequences of the COVID-19 crisis.
Building on this global picture, the research teams carrying out field work in a number of Sub-Saharan countries (Benin, Ghana, Kenya, Mozambique, Nigeria, Senegal, South Africa, Tanzania and Uganda) shared the following context-specific implications of COVID-19 on the labour market for young people:
Lockdown, or partial lockdown, and the subsequent scaling down of economic activities has had serious implications for youth employment in all countries focused on by the researchers.
Import-dependent sectors, service delivery, personal services like hair salons, retail and tourism are among the hardest hit sectors.
Youth with wage jobs face a reduction in available working hours, fewer training opportunities and shorter-term job contracts with less security.
An increase in gender-based violence and fertility rates caused by the pandemic is expected to lead to a reduction in the economic opportunities for young women in the long term.
Opportunities are emerging as well. IT-related jobs, personal protection products, new global value chain models and diverse services, such as new delivery services in Ghana, among other things, hold promise. New skills will be in demand, including soft skills and digital skills, but there is a concern that this new demand will exacerbate existing vulnerabilities for different groups of youth.
Gender and diversity considerations, such as socioeconomic status, ethnicity, location etc., will affect how youth access new job opportunities post-pandemic.
The pandemic highlights the importance of decent employment and exposes the risks and fragilities associated with informality. A number of micro, small and medium-sized enterprises (MSMEs) now have an incentive to register. There is hope that opportunities in the key productive sectors will be prioritized to create decent jobs for youth post-COVID-19.
Political engagement plays a critical role. The COVID-19 crisis may provide an excellent opportunity to adjust or completely redesign a number of national policies related to stimulating youth education and employment.
The research teams also discussed the implications of this changing landscape on short-term data collection activities and how it might taint the results of their studies. Nicholas Awortwi, Director of the Institute of Local Government Studies (ILGS) in Ghana, kick-started the discussion. Nicholas shared the importance of being flexible in terms of planning and creativity in finding ways of using the COVID-19 crisis to generate knowledge and integrate it into primary research plans. He experienced this first-hand when conducting a survey on how Ghanaian local governments are reacting to COVID-19 on the local level, in preparation for the launching of the Democratic Development Local Governance (DDLG) platform. One way is to adapt field activities and transition to phone surveys and interviews. Although it has some shortcomings, this method may be possible for a number of researchers. The experience of ILGS shows that in addition to new problems, COVID-19 has amplified a number of challenges already faced by respondents prior to the pandemic. Thus, such an approach may generate new, but also more profound, insights into the ongoing research.
The importance of possible COVID-19 implications for respondents, such as the emergence of new or exacerbation of existing challenges, and the consequent need for adjusted data collection plans was agreed on by all research teams. The researchers are also using new technology and social media to remain in contact with respondents and stakeholders (including WhatsApp groups). This said, remote data collection may prove challenging for certain groups of young people, especially young women, as not all have access to the Internet or control over their mobile phones. As a result, teams are putting in place mitigating strategies to ensure that no respondent is eliminated unfairly. The researchers agreed that the data collected prior to the pandemic will have to be revisited and adjusted, and that additional data may need to be collected to capture the growing demand for new skills and sectors post-COVID-19. Other teams have taken the opportunity to include a dedicated COVID-19 lens to their research by adding a short survey module to gain a better understanding of how the lives of youth are impacted by the current pandemic. In one case, these findings will complement the initial analysis and shed light on the role of soft skills in how young people weather the crisis. The research teams collectively agreed that the pandemic will surely have consequences for the recommendations that emerge from the ongoing studies for policymakers and practitioners.
This article is based on discussions during a virtual roundtable organized by IDRC in partnership with INCLUDE and ILO on 28 May 2020.