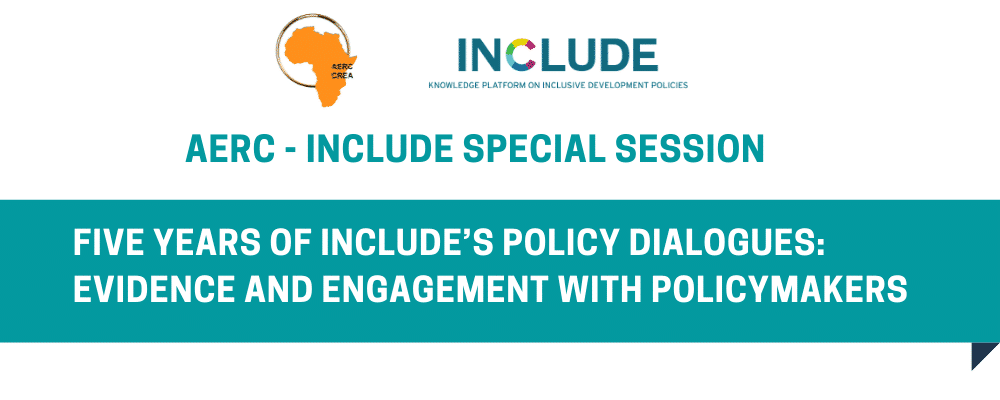 On 1 December 2021, INCLUDE, in collaboration with African Economic Research Consortium (AERC), hosted a special session on the African Policy Dialogues (APDs). This session, which brought together researchers, policymakers, and implementers from Africa and the Netherlands, deliberated on the evidence generated by APDs in the past five years and how the dialogues have strengthened the link between evidence and policy making in Africa. The session aimed at contributing to knowledge on inclusive development themes and broadening the approaches for evidence-informed policy making. It consisted of a brief introduction to INCLUDE and a panel discussion, which featured leaders from the APDs on women's entrepreneurship in Mali, devolved governance in Ghana, Utafiti Sera (research-policy) on social protection in Kenya, and productive and decent work for youth and women in Uganda. During the discussion, the APD leads discussed the evidence that attracted the greatest interest from policy actors, as well as the policy engagement approaches with the greatest potential to bridge the evidence-policy gap. Below are the key messages from the session.
Evidence that attracted the greatest interest from policy actors
From the panel discussion, evidence on the priority development challenges that policy makers and other actors were grappling with attracted the greatest interest.
In Mali, this was on the disparities in the management of small enterprises between male and female-headed enterprises, and between enterprises in rural and urban areas. For example, in 2018 to 2019, less than 15% of the small firms registered were managed by women. Further, whereas in urban areas women lack adequate time for their businesses due to household chores, in rural areas, women did not consider this a hindrance and viewed it as part of their daily work.
In Uganda, evidence on the experiences of youth who had returned from overseas and evidence on job creation opportunities through agro-industrialization in fish and cotton value chains was the most valued. Policymakers in Uganda have a keen interest in labour externalization and agro-industrial value chains as pathways to addressing unemployment among the youth. Consequently, the government has tasked the Economic Policy Research Centre (EPRC) with identifying areas in which investment could lead to more job creation.
In Kenya, the Partnership for African Social and Governance Research (PASGR) sought to create demand for evidence to address cash transfer challenges, including on how to improve efficiency by preventing some citizens from receiving multiple transfers. Policymakers were also interested in evidence on social protection, which was framed from an African perspective by considering history and culture, as well as from a social justice and human rights stand point, as embedded within the Kenya constitution.
In Ghana, the government was debating the most appropriate and non-partisan way of implementing decentralization, including via a referendum. The evidence attracted interest because it demonstrated the implications of proposed decentralized initiatives and quantified citizens' perceptions of local government policies. This was the case for the evidence generated by the APD on the people of Ghana's perceptions of the election of mayors and how a democratic local governance system could work and catalyse local development by addressing local challenges such as youth unemployment.
Approaches with the greatest potential to bridge the evidence-policy gap
Engagement with policymakers takes time and requires patience. The experiences in Kenya, Uganda and Ghana revealed that although researchers and development partners prefer quick gains, changing existing narratives and behaviour takes time. Therefore, any short-term goals achieved should be used to break the barriers between evidence generated and evidence used.
Identifying and managing the diverse and sometimes conflicting interests of actors is important in successful engagement. In Uganda and Kenya, this was addressed through constructive engagement by identifying the potential champions and detractors and approaching them to allay any fears, build trust and seeking their support, and lay the foundation for subsequent discussions. Furthermore, packaging evidence for different actors was useful in influencing conversations. For example, in Kenya, Utafiti Sera brought together stakeholders in social protection to find mutually acceptable solutions, allowing the APD to address interests of the members of parliament who were keen to drive reforms in social protection and helping senior policymakers meet their targets.
The APDs also varied their engagement approaches and focused on what they considered key to successful dialogue. In Mali, the APD sought to enhance the ownership of decision making and recommendations to strengthen evidence for women's entrepreneurship for different government ministries (e.g., the ministries for Entrepreneurship; Women and Gender; Industry and Trade; Employment; and Education), which all have programmes on women's entrepreneurship, but operate separately. The APD recommended roles for each ministry to avoid confusion among women entrepreneurs and to enhance synergy.
In Uganda, the key to successful engagement was the involvement of key policymakers in youth employment at the initial stages of the APD. This enhanced their buy in and continuous engagement; facilitated the development of a policy engagement and communication strategy including clarifying who to inform, engage and influence; enabled the thematic focus to be aligned with Uganda's development agenda; and helped to implement lessons on how to do better.
In Kenya, approaches that recognized the varying degrees of privilege and power between actors and how to break the power barriers were key. Other successful approaches included targeting behaviour change among actors, centralizing trust building through mutual respect, valuing divergent experiences, and gearing towards mutual benefit.
In Ghana, the most successful approaches included creating demand for evidence by building or drawing on policies and programmes that the government was already implementing and sharing evidence in widely circulated media prior to engagement with policymakers. In addition, sharing different knowledge products (such as policy briefs) and holding discussions with senior policy makers were recognized as important.