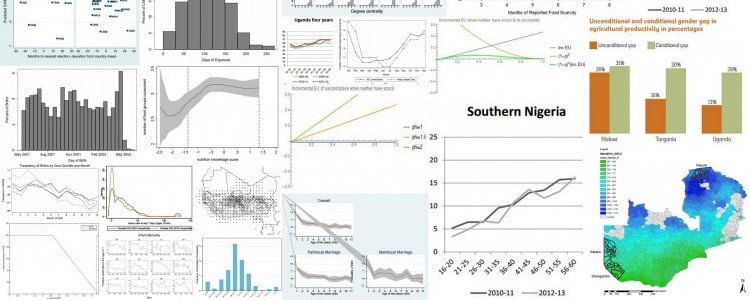 This week Oxford University's Center for the Study of African Economies holds its BIG annual conference. Two plenary panels, one keynote speech, one presentation of the World Bank's new report on Poverty in Africa, and almost 300 papers being presented. Wow!
So, what's going on in economic research in Africa? Today's post provides micro-summaries of the papers presented on the first day of the conference. You can skip to posts on Agriculture, credit, savings, and insurance, health, household and social networks, political economy, or poverty and inequality. Each micro-summary is tagged by country and (where straightforward) empirical method, so you can just search for those.
You can also watch a video of the plenary on What We Have Learned in 25 Years of Research on African Economies, with talks by Augustin Fosu (growth and poverty), Anke Hoeffle (conflict and development), and Stephen O'Connell (macro policy); of Mthuli Ncube's keynote on Global Growth and Financial Spillovers in Africa; or of several of the regular sessions.
Agriculture
Credit, Savings, and Insurance
Health
Household and Social Networks
Political Economy
Poverty and Inequality
This post was
originally published
on the website of the World Bank. Also read the micro-summaries of the papers that were presented on
day 2 and 3
of the CSAE conference, addressing agriculture, credit, savings, and insurance, education, firms, health, household and social networks, institutions, labor, migration, natural resources, political economy, and poverty and inequality.