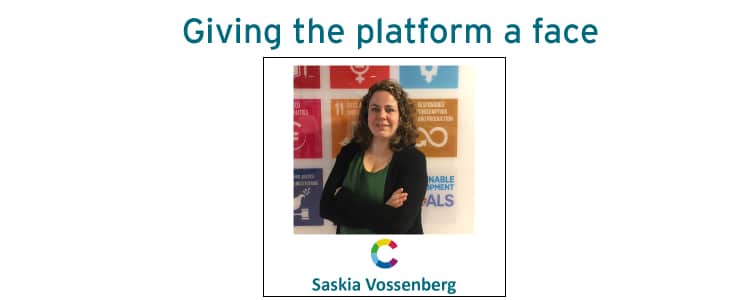 Kicking off the series is Saskia Vossenberg, an author for INCLUDE. Besides working on completing her PhD on gender, inclusive innovation and entrepreneurship, Saskia is an advisor and researcher on gender, financial inclusion and women's entrepreneurship at KIT Royal Tropical Institute in Amsterdam, from where she has been seconded to the FMO Dutch development bank. Due to the increasing interest in women's entrepreneurship by the Ministry of Foreign Affairs, she was approached by INCLUDE to share her expertise on this topic. Bringing together people with different expertise, Saskia says, is one of the great things about INCLUDE:
"INCLUDE is a network of national and international researchers and policymakers, which you can't find anywhere else."
Saskia has added to INCLUDE's growing pool of knowledge on gender awareness within female entrepreneurship. You can read her report, entitled 'Gender-Aware Women's Entrepreneurship Development for Inclusive Development in Sub-Saharan Africa'. This report is part of the dossier on 'Women and inclusive development'. Saskia has also shared her findings on technological innovation and entrepreneurship for women in Malawi in her blogs. You can find these blogs and more about Saskia's contributions to INCLUDE here.
Saskia recognises the value of an equal share of expertise from both the Netherlands and African countries in the INCLUDE network:
"I find INCLUDE very diverse … a kind of a gateway between the Netherlands and Africa."
She highlights the value of the in-house knowledge of the platform resulting from this cross-country collaboration:
"For Dutch and European policy making on Africa, I see INCLUDE as an important source of African expertise: not just white people with knowledge about Africa, but more of a network of African researchers and policymakers – a gateway that INCLUDE has managed to open up and in which there is an exchange of knowledge now."
This sharing of expertise has had a positive effect on Saskia in terms of sharing her work and contributing to a platform where her work is read by a like-minded audience. When asked what INCLUDE means to her personally and what value INCLUDE has for her, Saskia responded:
"INCLUDE gives me a platform for accessing and sharing information. I like the idea that when writing for INCLUDE, it is received by an audience that can actually do something with knowledge. INCLUDE challenges me to write things in such a way that it is relevant for policymakers, so that they can understand and use it."
The INCLUDE secretariat launched a series called 'Giving the platform a face' that focuses on the people who contribute to INCLUDE's knowledge pool, including platform members, researchers and policymakers. We inquire about the personal value of the INCLUDE platform and how they see the future of this dynamic knowledge platform.
We would like to thank Saskia Vossenberg for her contribution to the platform and for the opportunity to feature her in the 'Giving the platform a face' series. You can find some recent work and publications by Saskia here:  
Vossenberg, S. (2018). Frugal Innovation Through a Gender Lens: Towards an Analytical Framework. The European Journal of Development Research, 1-15.
Gomez, G., & Vossenberg, S. (2018). Identifying ripple effects from new market institutions to household rules-Malawi's Agricultural Commodity Exchange. NJAS-Wageningen Journal of Life Sciences, 84, 41-50.