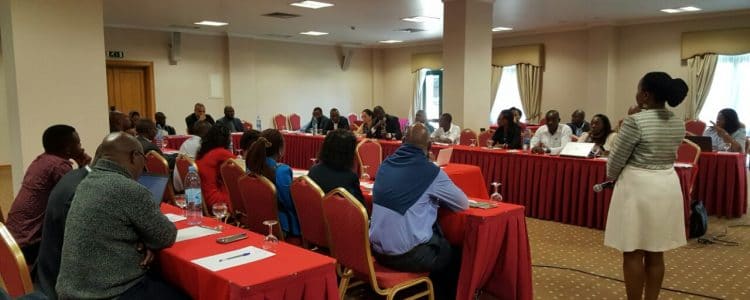 Plataforma Inclusão is an INCLUDE-funded African Policy Dialogue that focuses on youth employment creation policies in the extractive sector in Mozambique. Launched in 2016, Plataforma Inclusão is hosted by the Center for Public Integrity (CIP) in partnership with the National Institute of Employment and Vocational Training (INEFP) of the Ministry of Labour, Employment and Social Security (MITESS). On 8 November 2016, Plataforma Inclusão held a dialogue session with youth, followed by inter-sector dialogues on inclusive policies and youth employment in Cabo Delgado province on 10–11 November. The dialogues gathered stakeholders from the provincial and local governments, representatives of civil society, young people and youth groups, members of the private sector and representatives of academic institutions. The key messages from the dialogue are as follows:
Despite numerous interventions, wage unemployment remains rampart and is a key challenge to inclusive development.
Strategies to promote inclusive development should take into account of demographic trends and poverty rates.
Although the national youth policy has provided a framework for skills development, capacity building and self-employment among youth, more needs to be done to address the employment challenges that youth experience. For example, more vocational/technical schools and pre-professional internships are needed to enable local youths to obtain jobs. Notably, firms in Cabo Delgado hire workers from outside the province because local workers lack skills and experience.
Employment creation strategies should focus on the entire extractive industry value chain, rather than simply looking at the direct jobs created.
Good governance, especially addressing corruption is a key component of inclusive development efforts in Mozambique.
There is a need to address sexual harassment, especially of young women, because it hinders their skill acquisition opportunities.
Extractive sector firms should be sensitive to local cultures and establish strategies to enable youth to adapt to the 'work culture' in firms.
Employment creation should incorporate strategies to address the diversification of exports and to reduce poverty and inequalities in income and gender.
There should be greater involvement of youths at all stages of the development and implementation of policy and initiatives aimed at employment creation.
Key government agencies should work with private sector players to publicize available opportunities to reach youth in rural areas and to provide internships and develop strategies to address youth employment in the medium and long term.
Read the report of the intersector dialogues in Mozambique by the Center for Public Integrity (CIP)