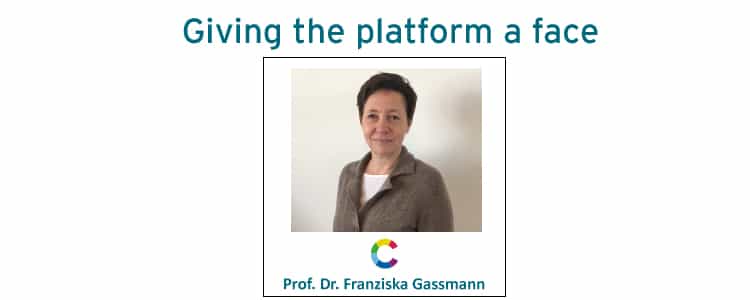 In this edition, we would like to introduce you to Franziska Gassmann, Professor of Social Protection and Development and leader of the research group 'Building the economic case for investments in social protection in Uganda'. We spoke to Franziska on March 29 during the writer's workshop on social protection, where she presented the results of her recent research.
The INCLUDE secretariat launched a series called 'Giving the platform a face' that focuses on the people who contribute to INCLUDE's knowledge pool, including platform members, researchers and policymakers. We inquire about the personal value of the INCLUDE platform and how they see the future of this dynamic knowledge platform.
In addition to her speaking engagement at the workshop she reflected on the state of the art literature at the end of the day,since she is in the process of writing the state of the art report on social protection. Franziska has had an early involvement in writing a concept note for the call for proposals on social protection – one of the themes for Inclusive Development INCLUDE and NWO-WOTRO started focusing on. When asked to do this, Franziska expressed the sense of relief she felt at the time:
"I remember thinking, 'finally'; finally there is awareness and recognition for social protection as a topic, because there never seemed to be awareness for it within the Dutch development cooperation context."
However, social protection is not explicitly featured on the political agenda in the Netherlands yet. Franziska ascribes an important role for INCLUDE here, targeting national and international policymakers to engage with the outcomes of research on social protection.
"We share the relevant knowledge of our projects on social protection, but this knowledge needs to reach policymakers. In this sense, I see a translating and knowledge brokering role for INCLUDE, for example by disseminating this knowledge in succinct summaries or as policy recommendations to be considered by the policymaker. We (researchers) produce a lot of data and evidence, which can be rather overwhelming for a policymaker. In that sense, INCLUDE could distill and convert this knowledge into an information format which is more manageable in scope and content for policy makers both in the African and Dutch context."
Franziska emphasizes that there is expertise on social protection in the African development context in the Netherlands, even though the Dutch Development Cooperation has been standing on the sidelines during the rapid developments in this field of work in the international context.
"Look, we have the expertise in the Netherlands, so it is more about awareness creation. We need to be able to convey in a concise manner what works in social protection and why it is important to invest in social protection."
Engaging with a diverse range of people that work on social protection in the Netherlands and realizing that many people focus and work on this topic has been valuable to Franziska. Furthermore, she elaborates on the networking potential that INCLUDE provides. The resulting ability to become part of a network of researchers and professionals that work on social protection is what is most valuable to Franziska:
"It was very interesting to me to realize 'ok, so we in Maastricht are not the only ones', we are not the only ones that do research on this topic. For me, the most valuable has been to network, to exchange ideas with other people; not only researchers, but also people that work for the ministry. To have discussions and to get to know one another and to see 'this is what all of us together are doing'. And in fact, it is quite a lot that we are doing, more than people think, and this is great to realize!"
We would like to thank Professor Franziska Gassmann for her contribution to the platform and for the opportunity to feature her in the 'Giving the platform a face' series. Also take a look at our previous entry where we feature 
Saskia Vossenberg
.
More recent work and publications by Prof. Franziska Gassmann:
Dietrich, Stephan, Daniele Malerba, Armando Barrientos & Franziska Gassmann, 2017, Rates of return to antipoverty transfers in Uganda, UNU-MERIT Working Paper 2017-040
Mideros Mora, Andres, Franziska Gassmann & Pierre Mohnen, 2016, Estimation of rates of return on social protection: ex ante microsimulation of social transfers in Cambodia, Journal of Development Effectiveness, 8(1): 67-86
Gassmann, Franziska, Pierre Mohnen & Vincenzo Vinci, 2016, Institutional factors and people's preferences in social protection, UNU-MERIT Working Paper 2016-003