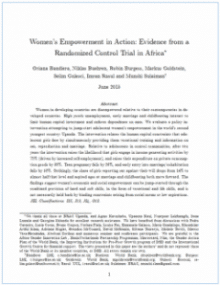 Policy highlights:
Many young women in developing countries are trapped in an equilibrium where low human capital, restricted access to labor markets and limited control over their bodies reinforce each other, leading to dependence on men for opportunities. To address this issue, programmes need to target women in their adolescence, as it is in this phase where the decision is made between marriage, childbearing and dependence on men, or the pursuit of a career.
In Uganda a policy intervention is in place that attempts to jump-start adolescent women's human capital to set them on a trajectory towards a better equilibrium. Impact studies show that the programme was successful: Beneficiaries' entrepreneurial skills were improved and participation in the labour market increased; early marriage and childbearing were decreased; and girls demanded a more equality in the workplace and at home relative to men.
Based on these positive results, policy makers are advised to: 1) take an integrated approach that combines the provision of 'hard' vocational skills (enabling girls to start income generating activities) with 'soft' life skills (enabling girls to make informed choices about sex, reproduction and marriage); 2) deliver interventions through designated 'clubs' rather than in schools to ensure school drop-outs as well as girls currently enrolled in school are reached; and 3) include recreational activities in the programme – such as reading, staging dramas, singing, dancing and games – to provide a protected local space in which adolescent girls can feel safe, discuss concerns and practice their skills.