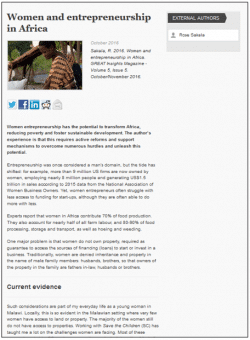 Policy highlights:
Female entrepreneurship has the potential to reduce poverty and foster sustainable development in Africa, but female entrepreneurs often face serious obstacles.
In Malawi many women are illiterate, lack relevant business skills and have limited access to funding. This makes it very difficult for them to start or successfully operate a business.
Targeted interventions by the 'Improving Economic Opportunities for Women and Children' project in Malawi have yielded positive results. For instance, beneficiaries were able to market their own products, start their own enterprises and borrow on their own at a fair interest rate.
Based on this evidence, policymakers are advised to: 1) provide women with training in management, negotiation, and marketing skills; 2) ensure that women have better access to loans through de-risking tactics; 3) help women obtain access to land by lobbying e.g. village chiefs and husbands; and 4) promote partnerships as an alternative to sole proprietorship.