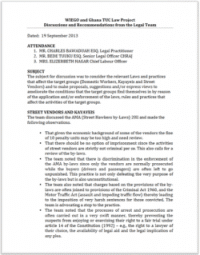 Policy highlights:
The livelihoods of domestic workers, kayayeis (porters) and street vendors in Ghana are threatened by strict regulations regarding informal sector workers. To address this, Women in Informal Employment: Globalizing and Organizing (WIEGO) and the legal team from Ghana Trade Union Congress (TUC) make a number of policy recommendations.
With regards to the punishment of street vendors, policymakers should: 1) reduce fines and harsh sentences; 2) abolish the option of imprisonment as street vending is not criminal per se; and 3) discipline guards and others responsible for the extortion and assault of street vendors.
Policymakers should regulate contract agreements between domestic workers and employers that specify work hours, pay, responsibilities, rights and so forth. These contracts should also include a provision for training/education and capacity building.
Public-private partnerships should be actively promoted to facilitate access to (skills) training, foster entrepreneurship, provide financial support and stimulate the formalization of the informal economy.