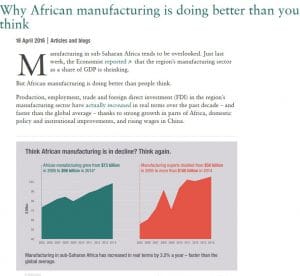 Policy highlights:
Despite a relative decline, the manufacturing sector in Africa grew from $73 billion in 2005 to $98 billion in 2014 and is attracting more Foreign Direct Investment (FDI), which contributes to development objectives.
African countries can support manufacturing through ensuring a stable macroeconomic and institutional environment; creating economic zones and industrial parks; promoting manufacturing exports through regional trade integration; engaging private sector collaboration; and active FDI promotion and building linkages with local firms.
Importing countries can support this trend by developing strategies that promote investment in manufacturing, for instance by creating incentives for investment in manufacturing, and by allowing manufacturing imports on their domestic market.