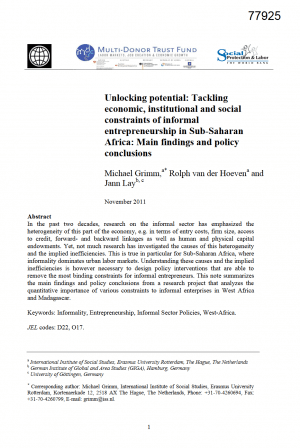 Policy highlights:
Research on the informal sector has emphasized the heterogeneity of this part of the economy (e.g. entry costs, firm size, access to credit, forward and backward linkages, human and physical capital endowments), but has paid scant attention to the causes of this heterogeneity and the implied inefficiencies, particularly in Sub-Saharan Africa.
Identifying entrepreneurs with high potential but low capital is an important step towards differentiated informal sector policymaking and effective targeting. These can be added to two well-known informal sector entrepreneur groups: top performers and survivalists.
In order for the group of top performers to outgrow the group of survivalists, interventions should remove binding constraints on informal entrepreneurs: economic constraints (market imperfections, lack of insurance or demand), institutional constraints (ill-managed regulations, corruption) and social constraints(obligations to extended family). They should also provide predictable business environments and instruments to deal with non-business risks (e.g. health insurance).