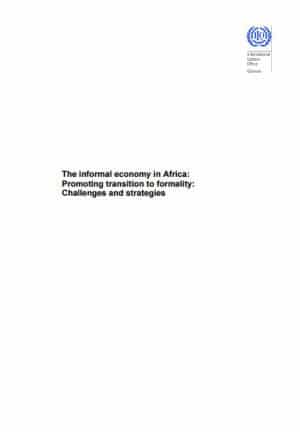 Policy highlights:
The majority of the labour force in Africa works in the informal economy. To have an impact on poverty, economic growth should be associated with a movement into better employment opportunities, also in the informal economy.
Decent work strategies for the informal economy include:

growth strategies and quality employment creation;
regulatory environment, including International Labour Standards and core rights;
organization, representation and social dialogue;
gender equality and the informal economy;
entrepreneurship, skills, finance, management, access to markets;
extending social protection, including social security; local (rural and urban) development strategies.

Promoting decent work requires a redefinition of priority sectors and greater concern for agriculture, productivity, skills, entrepreneurship and microfinance. Improved understanding of informal livelihoods – notably employment, earning and spending patterns, factors of vulnerability, access to basic services and productive factors – is necessary to design and monitor adequate policies.