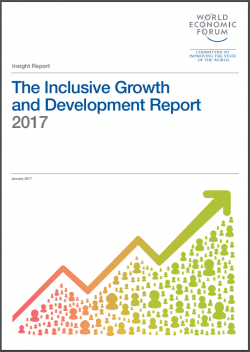 Policy highlights:
Most countries face challenges in translating economic growth into social progress. Out of the 103 countries included in this study, 51% saw their Inclusive Development Index (IDI) score decline over the past five years. In 42% of the countries IDI decreased despite an increase in GDP. In over 75% of the countries wealth inequality rose by 6.3%.
Whereas advanced countries were found to have diminishing returns from monetary policy measures, limited fiscal space and unfavourable demographic trends (e.g. in Japan); middle-income countries experience weak exports and commodity prices, currency depreciation and capital flight; while lower-income countries face inadequate access to basic services, education and infrastructure, as well as weak legal, tax and investment conditions.
Boosting economic growth and equity can be achieved by: 1) a mixture of demand- and supply-side structural reforms, which can boost consumption and job creation in the short term, while raising the economy's long-term growth potential through lasting improvements in labour productivity, household finances, real-economy investment, and innovation, 2) discrete national investment targets and a public-private implementation strategy in five areas of human capital formation (active labour market policies, equal access to quality basic education, gender parity, non-standard work benefits and protections, and effective school-to-work transitions), and 3) the reprioritization of the structural economic policies of international organizations.