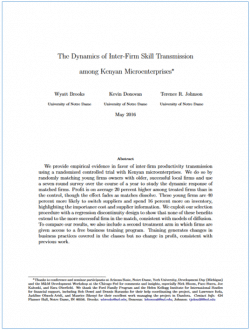 Policy highlights:
Research shows that standard microenterprise training is largely unsuccessful in raising microenterprise profits. And because these enterprises are of vital importance for developing countries' economies, alternatives must be found.
This paper shows that interaction between successful, local business owners and young, inexperienced entrepreneurs helps to increase the profit of new microenterprises. However, after the mentorship ends, effects fade over time.
These results have some important implications for policy makers and programmes that seek to improve profitability of microenterprises: 1) the success of mentorships underlines the importance of local, market-specific information on suppliers; existing training programmes are too general; 2) young business owners can greatly benefit from information outside their existing; policies should therefore aim to actively promote establishing links with external actors; 3) benefits are driven by a continuous flow of information from mentor to mentee rather than by permanent behavioural change; therefore, programmes should focus on establishing a network in which knowledge exchange can be sustained.