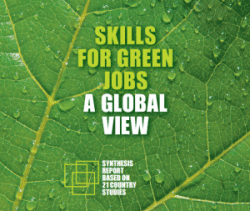 Policy highlights:
A growing awareness of the importance of sustainable development and a shift towards a low-carbon economy have the potential to generate decent jobs.
Key to unlocking this potential is skill development that corresponds to the changing skill demand. This demand is affected in three ways: 1) the transformation towards low-carbon industry causes 'green restructuring', shifting economic activity and employment (which requires training for workers to move from old to new industries); 2) new emerging occupations, such as solar technicians, that will require different training; 3) the greening of existing jobs will require new skills, such as learning to grow new crops or working with fuel efficient technology.
Twenty-one country studies show the way forward lies in four areas: 1) informed, coherent and coordinated policies (priorities are strategic leadership and management skills, environmental awareness, labour market information, effective coordination among ministries and social partners); 2) targeted policies, especially towards those at a typical disadvantage in the labour market; 3) the training system (priorities are basic skills development, matching classroom and practical training, adjusting length and breadth of training, equipping teachers and trainers, enabling active labour market policy measures, deploying public employment services); and 4) special measures for developing countries.