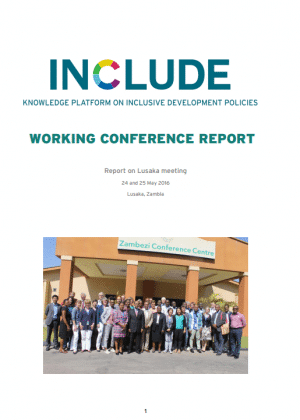 From 23-25 May, INCLUDE held its bi-annual working conference in Lusaka, Zambia. On 24 and 25 May, INCLUDE & NWO-WOTRO research groups discussed their preliminary research findings with Platform members. This report provides an overview of the discussions during the sessions on 24 and 25 May in Lusaka.
Highlights
The 17 INCLUDE research groups are halfway through their research and have already yielded various significant interim results and policy messages, touching upon various aspects of inclusive development in Africa and related to various policy levels, from the local to the global. A compiled list of knowledge products is available here.
Researchers and platform members share a passion for making research on inclusive development relevant to policymakers, but their views on what kind of findings and policy messages are relevant differ. Policy stakeholders (including platform members) are particularly interested in how research results can provide evidence on the best approach to follow in policy making and implementation. A number of researchers, however, warned not to focus too narrowly on economic growth and successful cases in research on inclusive development, but to follow a more holistic approach.
To enhance research uptake, policy stakeholders and platform members suggested that evidence should highlight both the positive and negative impacts of interventions and the policy implications. Policy messages need to indicate how interventions should be tailored to the local context to bring about improvement. Policy options are preferred over recommendations. The number of policy advices should be limited and specific in terms of content and targeting policymakers.