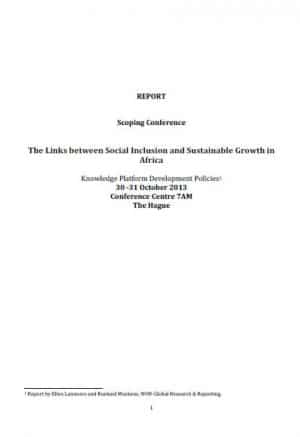 The Knowledge Platform on Inclusive Development Policies organised the scoping conference 'The Links between Social Inclusion and Sustainable Growth' (The Hague, 30-31 October 2013) in the framework of its activities on the theme of Promoting Inclusive Development in Sub-Saharan Africa. About 70 experts from academic and NGO communities from Africa, Europe and international organisations explored the central questions:
Can Social Protection (SP) contribute to growth, productivity and employment for vulnerable groups in SSA?
Through which channels? Which functions and forms of SP?
Is SP the most effective instrument for Social Inclusion or are there better policy alternatives?
How about protecting the chronically and ultra vulnerable?
The objective of the conference was to identify focal areas for future research and knowledge work by the Platform. The theme of Social Inclusion and Sustainable Growth is connected to the two themes on which the Platform already formulated a research agenda and for which calls for proposals were issued in September 2013: Productive Employment and Strategic Actors for Inclusive Development.