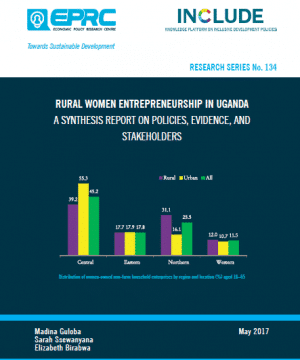 The African Policy Dialogue on women's entrepreneurship and social protection in Uganda has published a report that synthesises key issues in rural women entrepreneurship in Uganda. The report describes the context of rural women entrepreneurs in Uganda and pays close attention to the women targeted by the Uganda Women Entrepreneurship Programme (UWEP). Through qualitative and quantitative data from the Uganda Bureau of Statistics, findings indicate that:
Most rural women are illiterate (about 75 percent) and run informal non-farm enterprises that are micro and seasonal in nature. Accessing finance through local groups such as Rotating Savings and Credit Associations was most common for rural women in business. Thus, training materials, particularly the financial component, mentoring and an early warning system for these entrepreneurs should be established together with effective management and leadership of these groups. For growth to occur, it is important for groups to take bigger loans as an indication of business expansion and growth. The government needs to resume adult literacy programmes within the UWEP.
Because the majority of women entrepreneurs act in the informal market, there is a need for UWEP strategies to ensure that the groups that receive funds also join the formal market for ease in accessing economic benefits that accrue with formalisation. Changing the mind-set of new women entrepreneurs is key, as it is difficult to assist a woman who has never been in business before to run a profitable business unless her mind-set is changed.
Given that UWEP targets all women in peri-urban centres and in rural areas, the possibility of urban women entrepreneurs accessing credit is high, and this can overshadow women in rural areas who need credit the most. Thus, UWEP management needs to ensure that the distribution of funds is equitable across different categories (urban, region, education level, and level of business enterprise). While group models may be ideal for rural women entrepreneurs, the same might not appeal to or work for urban and peri-urban women.
The government and non-government organizations should effectively work and commit themselves to promoting and encouraging women entrepreneurs not only in the traditionally women-dominated products but also in modern, non-feminine, and high-tech areas.