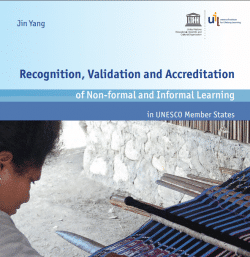 Policy highlights:
In many African countries, non-formal education has a long tradition, but formal recognition of prior- or informal learning is not the norm. As a result, the potential of informal learning is not being sufficiently tapped.
However, in several African nations – including Mauritius, Botswana, and Namibia – policy to promote recognition of prior learning is already being implemented for a variety of reasons: 1) to widen access to higher education; 2) to more effectively include skilled, but informally-educated, people into the (formal) workforce; 3) to make up for the shortage of tertiary institutions; and 4) to promote equality and economic growth.
To ensure the recognition of non-formal education has a positive and constructive impact, a number of shifts are necessary, including: 1) moving from a centralized, state-controlled system to a decentralized, coordinated partnership system; 2) focusing on the professional inclusion of youth, for example, by adopting standards based on actual skills, rather than on diploma acquisition, 3) broadening the scope of skills training with more room for apprenticeships and on-the-job learning; and 4) collaborating with private-sector stakeholders to implement quality assurance for non-formal and informal learning.