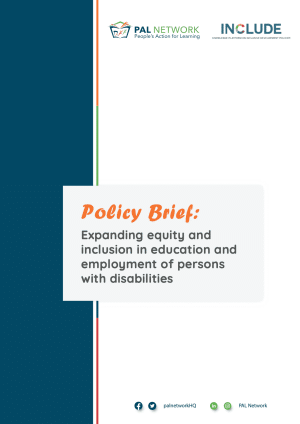 On 27 May 2022, PAL Network held a dialogue with key stakeholders in the education in Kenya. At the dialogue, a Policy Brief with findings on the challenges that Persons with Disabilities (PWDs) face, and strategies to enhance their inclusion was discussed. The central message in the Policy Brief is that inclusion of PWDs in the social, economic and political sectors in the society is important in improving their well-being and contributing to inclusive development by ensuring that no one is left behind. It further shows that despite global and national commitments towards achieving disability-inclusive development, PWDs in Kenya continue facing discrimination in education, employment and public procurement. Further, COVID-19 made all these worse for PWDs. Barriers to quality education for PWDs include:
Inadequate adaptation for learners sitting national examinations.
Inadequate learner capitation funding under Free Primary Education and Free Secondary Education.
Inadequate infrastructure grants for special primary and secondary schools.
Inadequate number of SNE teacher trainees
Low capacity of Education Assessment Resource Centers to assess learners with special needs.
Lack of an integrated data management system for early identification assessment and placement.
Policy recommendations
Fully implement of the Basic Education Curriculum Framework (BECF) which is designed to meet the unique needs of learners with special educational needs and disabilities.
Implement the 2018 Sector Policy for Learners and Trainees with special needs because it creates the basis for the deployment of specialised human resources.
Fast track a review of the Education Act (2013) to incorporate the pertinent and contemporary issues affecting all learners, particularly those with disabilities.
Strengthen the National Social Assistance Council to improve the effectiveness of the coordination and implementation of social protection schemes and promote cooperation among stakeholders on socially protective interventions to support PWDs during shocks.
Emphasise on systematic data collection, analysis and disability mainstreaming in all government reports, to enable performance and policies assessment over time.
Earmark disability funds in all government structures to ensure that disability is a cross-cutting issue is and prioritised in all government programmes.
The dialogues was featured as a news item in a leading TV station in Kenya, which can be viewed here: https://www.youtube.com/watch?v=-PNrzVW8uCc