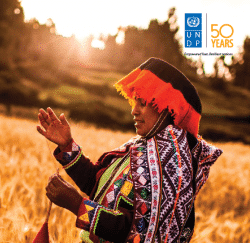 Policy highlights:
Vulnerable social groups are often excluded from social protection programmes (SPPs) because such programmes fail to address the structural drivers of deprivation and inequality, such as social norms and institutions.
For SPPs to effectively contribute to sustainable and inclusive transformation, policymakers should adhere to key principles. For example, they should ensure human rights and non-discrimination, foster gender equality and women's empowerment, and provide a continuum of protection throughout people's lives.
These general principles should be supplemented by practical measures in relation to the design and implementation of SPPs. Policymakers should: 1) ensure policy coherence (i.e. SPPs should form a coordinated system of interacting and complementary programmes); 2) adjust SPPs to the specific needs of different groups to ensure that they reach those who need to be reached; 3) establish an explicit link between social protection and environmental sustainability (e.g. by promoting more sustainable use of natural resources), thereby reducing the vulnerability of households to climate risks; and 4) treat SPPs as a profitable investment in both individuals and (economic) development in general.