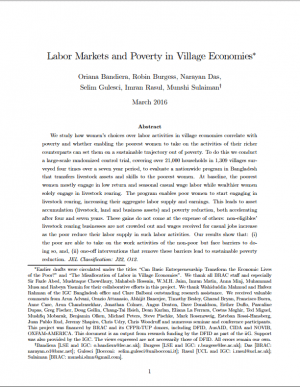 Policy highlights:
The baseline labour survey of Bangladeshi villages for this study revealed that 80% of the hours worked by women are strongly correlated with poverty. Poor women engage mostly in casual wage labour such as maid services and agricultural labour, while wealthier women specialize in livestock rearing.
Four years after a one-off transfer of assets and skills the hours devoted to livestock rearing had increased by 361% and the hours devoted to agricultural labour and maid services had decreased by 17% and 36% respectively, resulting in an average increase in income of 37% compared with the control group.
These findings suggest that a one-time transfer can eliminate the barriers preventing the ultra-poor moving to a more remunerative occupation that gives them a long-term increase in income.