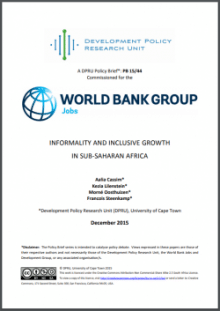 Policy highlights:
The informal sector is a significant economic contributor and employs the large majority of individuals in countries in Sub-Saharan Africa.
Regional evidence on Sub-Saharan Africa suggests that: 1) the informal sector promotes inclusive growth by providing an alternative to unemployment, particularly for those with low skill levels, women and young people, 2) the informal sector may inhibit inclusive growth if workers are put in precarious positions, such as when earnings and benefits are outweighed by ill-health and job insecurity, and 3) the impact of the informal sector on the formal sector depends on the size of informal enterprises and their proximity to consumers, as well as their linkages to the formal sector.
Policymakers can boost the informal sector and inclusive growth by: 1) addressing the overarching skills gap, specifically in entrepreneurship and practical business management, 2) supporting female-run micro enterprises, 3) promoting large, more profitable informal sector enterprises, including by reducing barriers to formalization and demonstrating the benefits of formalization for both firms and workers.