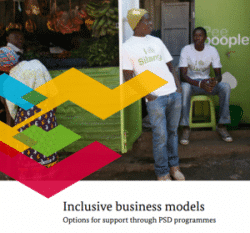 Policy highlights:
Most existing donor instruments that support inclusive business (IB) models focus on larger companies from industrialized countries, rather than local companies. Additionally, they are not systematically integrated into broader private sector development (PSD) programmes.
The main barriers to doing inclusive business include: lack of infrastructure, lack of market demand, lack of knowledge and skills, and complex or hostile regulatory or legal environments.
To promote IB models in the context of current PSD programmes, efforts should focus on: stimulating local business start-ups that apply IB models, encouraging existing companies to adopt such models, or supporting the scaling up of existing IB models to achieve greater outreach and impacts.
Recommendations for specific policy-level support for promoting IB models include: 1) creating a conducive regulatory environment; 2) promoting easier registration processes for companies; 3) addressing sector-specific hurdles and consumer protection issues; 4) designing innovation- and competition-policies; and 5) introducing subsidies that stimulate demand for specific products and services.