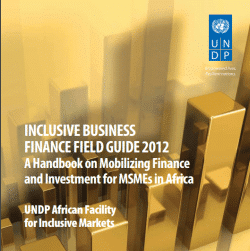 Policy highlights:
Inclusive business finance (IBF) refers to funding and other forms of capital that support the creation, growth and sustainability of entrepreneurs and smallholders, micro-, small- and medium-sized enterprises (MSMEs) that were previously excluded from financial markets. Instruments include: debt, equity, quasi-equity, grants, insurance, guarantees, development finance and shared risk instruments and mechanisms.
Companies can capture growth opportunities while supporting economic development within low income communities by providing intermediation for MSMEs within their value chain. In particular, the 'missing middle' represents a major gap in the financing pool and represents a significant opportunity for finance providers willing to support entities that are too large for micro-credit and too small for commercial credit from banks.
For development practitioners, an understanding of the segmented inclusive and business finance marketplace, along with insight into how to access and attract this capital for the benefit of low-income community development programmes, will both increase the effectiveness of aid resources and improve economic growth sustainability and inclusiveness in developing countries.