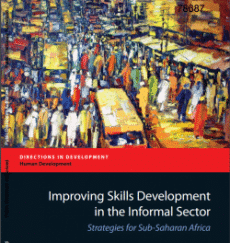 Policy highlights:
As the informal sector in Sub-Saharan Africa absorbs the majority of workers, improving the sector's productivity is essential for employment, income growth, and poverty reduction.
Skills development is one of the most important factors impacting on productivity, especially because education has been proven to translate into higher earnings. Additional investment in skills is another important factor.
Interventions are needed to address the specific needs and constraints faced by small businesses in enhancing the skills of their workforce. Policy recommendations include: 1) moving from supply-driven financing (focused on inputs) to the results-based financing of public skills providers, thus holding providers accountable for training outcomes; 2) formulating concrete action plans for addressing the informal sector's development needs, including skills; 3) encouraging investments in skills by small informal businesses through financial assistance and adequate information about the benefits of training and competitive sources for obtaining it; 4) expanding second-chance programmes for education to ensure craftsmen and apprentices have access to further education opportunities; 5) promoting competition and innovation in training delivery by introducing demand-side financing instruments such as vouchers or opening markets to private training providers.