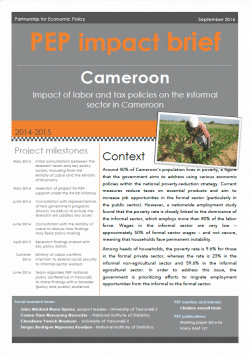 Policy highlights:
The poverty rates (percentage of people below the poverty line based on the median income of a country) in Cameroon are higher for people working in the informal agricultural sector (59,6% ) and the non-agricultural informal sector (23%), when compared to people working in the formal sector (9,6%).
Simulation revealed that poverty reduction and growth are dependent on higher wages, which does not necessarily have to be combined with moving labour into the formal market. Introducing a minimum wage in order to increase household purchasing power and thus on household well-being is therefore recommended.
A simulation of the effects of taxation policies on the informal market shows these would not facilitate poverty reduction and growth.
Actual change can only be accomplished by establishing a strong connection with local stakeholders, during and after a project. A connection like this is achieved by discussing the project and preliminary conclusions with stakeholders beforehand, to create interest and specify the research. Afterwards, conferences and media attention helps spread the experience and knowledge gained.