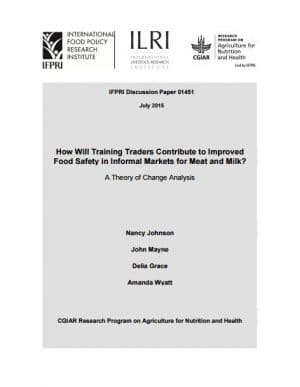 Policy highlights:
Increased consumption of meat, milk, eggs and fish among poor consumers in developing countries has the potential to improve nutrition as well as drive pro-poor economic development. However, animal-source foods are a major source of food-borne disease and concerns about safety may lead to reduced consumption of nutritious foods and market access for smallholders.
Evidence shows that training, certification and branding schemes for informal value-chain actors have the potential to improve the safety of animal-source foods sold in informal markets.
The key to changing practices is simplifying training to basic key food-safety messages, supplemented with materials supporting hygienic practices. Moreover, to have an impact on the quality of products sold in markets, a large proportion of traders have to be trained. For traders to change their behaviour, the practices need to be feasible to them, training and certification needs to be well coordinated, and incentives for certification need to be in place.