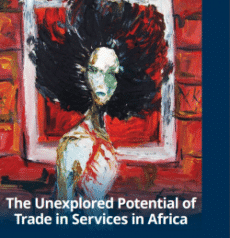 Policy highlights:
Trade in services allows African countries valuable opportunities for growth, but many obstacles still exist, including regulations and trade barriers, which drive suppliers into informality or force them to engage in less productive transactions.
To strengthen services in Africa, policymakers need to adopt a holistic approach that includes coordinated regulatory reform and the liberalization of trade in services, informed by systematically collected data.
To promote Africa's trade in services, practical policy recommendations include: 1) invest in data collection and monitoring of services reforms; 2) prioritize regional cooperation to challenge regulatory heterogeneity that leads to market segmentation and creates barriers for service traders; 3) adopt complementary policy in the areas of education and information to encourage skills development; 4) assist in the development of regulatory capacity of regional authorities to ensure efficient implementation of good regulatory principles; and 5) put informal and knowledge intensive service on the agenda of policymakers.