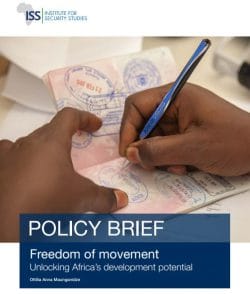 On paper, Africa has what is needed to advance greater freedom of movement on the continent. This includes having legal instruments and policies on continental migration governance in place. In addition, some regions, in West, East and Southern Africa, have developed innovative tools that could advance development and regional integration underpinned by migration. The challenge, however, is putting these into practice.
Key lessons from this policy brief on migration governance:
Clearer messaging on the net benefits of migration is key for development.
Regional policies that are consistent with the continental position and international norms are required.
More intra-regional migration would stimulate growth of integrated societies and economies.
West Africa's regional migration policy and practice are the most advanced in Africa.
If properly implemented, the planned freedom of movement scheme for some countries in East, Southern and North Africa could be a good model for continental integration.
Read more about (labour) migration and policy in Africa and its relation to development. This policy brief was written for and published by the Institute for Security Studies (ISS).