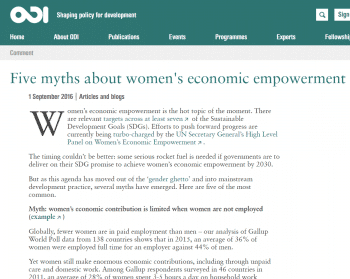 Policy highlights:
Women's economic empowerment has become one of the major priorities on the development agenda. In pursuing this goal, a number of recommendations can be made to policymakers:
Women's unpaid care work should be recognized as contributing to economic growth. Accordingly, investments in care infrastructure should be made to free women to engage in paid work.
Gender-sensitive interventions are needed to ensure that women benefit from general economic growth. In addition, targeted measures are needed to ensure women's empowerment once they enter the workforce, such as investing in education, removing legal restrictions and improving working conditions.
Progress will only be meaningful if the cultural, economic and political structures that limit women's empowerment, such as discriminatory attitudes towards female employment, are challenged.