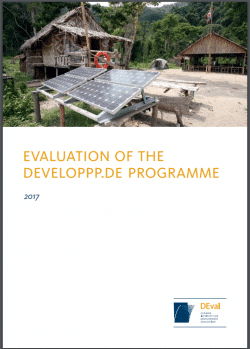 Policy highlights:
The Developpp.de programme was set up by the German Federal Ministry for Economic Cooperation and Development (BMZ) in 2009 to pool private and public funds for development projects. This document evaluates the extent to which the overarching goals of the programme have been achieved.
The evaluation found that the design of the Developp.de programme contributed to knowledge and technology transfer in developing countries beyond the end of project terms, but does not sufficiently facilitate change: Innovations do not spread beyond target groups and therefore the meso- and macro- level changes in systems related to employment and income generation are not achieved. A number of lessons can be drawn from the analysis:
1) The programme has an unclear strategic direction and policy framework. A set of transparent, clearly defined, obtainable goals would help to: 1) create an organization-wide M&E system that would also allow for proper project-level M&E systems, 2) set programme priorities, strategies and boundaries, and 3) enable a widespread understanding of project focus. The second goal of Developpp.de  – to sensitize companies to the relevance of development objectives (development mainstreaming – is currently not explicit in the programme, but offers opportunities for systematic changes in the development outcomes of private companies.
2) In order to make use of the expertise of multiple implementing organizations, the added value should be clear (to the organization as well as to outsiders) and used to its full potential. This requires systematic organization related to, among other things, PR, finance, resource sharing and synergies with the overarching goals of the organization.
3) Overall, public-private partnerships (PPPs) are much appreciated in their capacity to achieve development outcomes. However, attention should be paid to the balance between development and company objectives within projects and to the sustainability and scope of development outcomes. Clear, structured and transparent designs, objectives and implementation are required to achieve sustainable development outcomes.