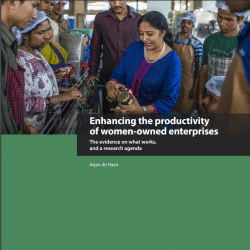 Policy highlights:
There is concern that economic transformation in developing countries may lead to increasing gender disparities, which can, in turn, hamper economic growth.
The potential contribution of equal participation of female entrepreneurs to general economic growth is large: 50% of women's productive potential is underused, compared to 22% of men's. This gap can be explained by numerous constraints that women entrepreneurs are facing, including 1) lack of access to finance; 2) lower sales and assets; 3) overrepresentation in the smallest and informal enterprises.
Promoting women's economic empowerment cannot be seen in isolation of broader gender inequalities and thus requires a multidimensional approach. Policy makers are advised to: 1) establish in-depth and longer- training and mentorship programmes to foster sustainable growth impacts; 2) make addressing constraints to financing a key priority; 3) provide easier access to mobile phones and other technologies; 4) provide women with the legal protection that business registration offers; and 5) promote advocacy initiatives to change laws and enhance the capacity to create a more level playing field for women.