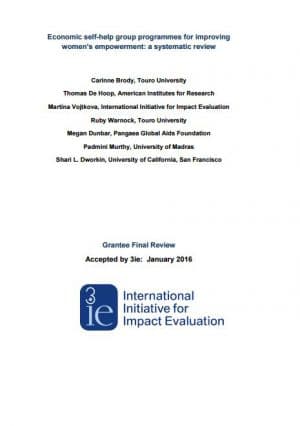 Policy highlights:
Self-help groups (SHGs) are widely used as a means to ameliorate poverty and the social marginalization of women. Research shows that economic SHGs positively affect women's economic, social and political empowerment. Their effectiveness can vary depending on the context and programme design.
No evidence was found for psychological empowerment or a link with increased likelihood of domestic violence as a result of support received by women. The poorest sometimes participate less due to social and economic constraints. They can be encouraged to participate by providing both financial (i.e. no savings requirements) and non-financial (i.e. outreach) incentives.
The most effective SHGs were accompanied by group training, such as group sharing, learning and support, which may be related to external support and holistic programming. Tailoring programmes to local settings is critical for effect, as this allows them to evolve over time (i.e. by including advocacy training or community readiness activities).