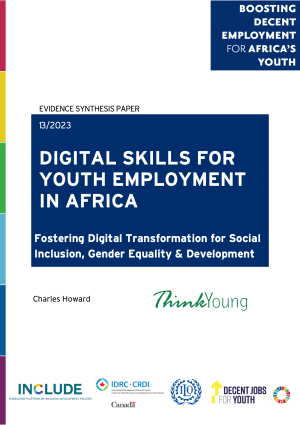 Digital advancements are changing the world of work. It is estimated that over the next ten years, 9 out of 10 jobs globally will require digital skills. This digital transformation has the potential to reverse the trend of 'jobless growth' in Africa, altering the structure of African economies by investing in digitally-enabled decent jobs. However, it is still unclear what the main challenges and opportunities are in this transformation and which skills are needed to capitalise on it.
To find an answer to these questions, INCLUDE commissioned ThinkYoung, an international youth Think Tank, to critically engage with the key interrelated drivers and barriers to digital skills development and employment for young people in Africa. The conclusions are now published in the new evidence synthesis paper: Digital Skills for Youth Employment in Africa, authored by Charles Howard (Head of research at ThinkYoung), which sheds light on the question of what digital skills actually are and what is needed to create an enabling policy environment for these.
You can download the paper here.
Acknowledgements
The author extends a special thanks to Ilaria Nilges for invaluable research assistance, content review, and advice throughout the drafting of the paper. The author also gratefully acknowledges the support of Delila Kidanu, alongside the guidance, feedback, and editorial work of Siri Lijfering, Agnieszka Kazimierczuk, and the entire INCLUDE team and partners involved.