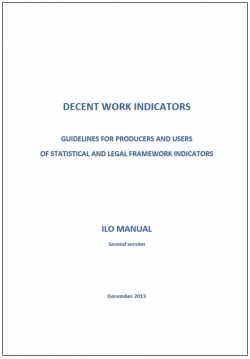 Policy highlights:
Decent work is central to sustainable poverty reduction and is a means for achieving equitable, inclusive and sustainable development. Development practitioners need go beyond the unemployment rate as a measure for analysing unmet need for employment and look at decent work instead. Progress made in the area of decent work should be monitored on a country level, using a set of indicators that combine standardized and context-specific elements.
This manual provides a tool through which a comprehensive, holistic report can be produced on the current status and progress of decent work in different settings. It concerns the second version of the ILO Manual on Decent Work Indicators, formulated by ILO on the basis of an international Tripartite Meeting of Experts.
The framework provided covers 10 elements based on the 4 pillars of ILO's Decent Work Agenda: 1) full and productive employment, 2) rights at work, 3) social protection, and 4) the promotion of social dialogue. Both statistical data and legal framework indicators are organized and classified under these elements.
Policy should be informed by a combination of indicators, as presented in the manual. The level of, and change in, single statistical indicators is not sufficient to determine the presence (or absence) of decent work. Instead, it is through the analysis of a full set of selected indicators – including legal framework indicators – that a complex picture emerges of the progress made towards decent work. The data collection and statistical analysis procedures should be made clear to users in order to ensure that the data is used correctly.