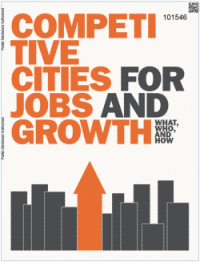 Policy highlights:
Research shows that 72% of cities outperformed their national economies in GDP growth alone, but only 18% of cities achieved the same in terms of jobs, growth and productivity. Because improving the overall competitiveness of cities is instrumental in eliminating extreme poverty, city leaders face several important tasks including: 1) creating jobs for urban dwellers; 2) setting priorities and selecting appropriate interventions; and 3) ensuring policy is effectively implemented.
This World Bank publication provides guidance to policymakers who seek to enhance their cities' competitiveness. It offers practical steps, divided into three phases: 1) building consensus and preparing the groundwork; 2) calibrating for successful implementation; and 3) monitoring and adjusting implementation.
Although there is no single recipe for becoming a competitive city and interventions must be adjusted to specific political and economic contexts, four key categories of policy have been identified that leaders should invest in: 1) institutions and regulations (e.g. addressing regulatory barriers for urban businesses); 2) infrastructure and land (e.g. offering free or highly subsidized land for priority industries); 3) skills and innovation (e.g. offering worker training programmes designed in collaboration with private for-profit firms); and 4) enterprise support and finance (e.g. establishing credit access programmes for priority industries).