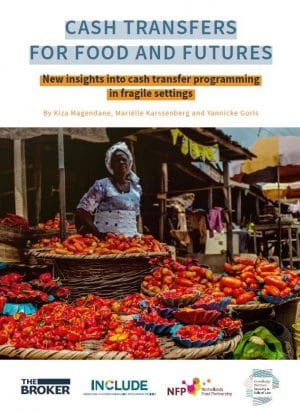 This report is the concluding knowledge product of the
Cash transfers for food security
project that The Broker has conducted in collaboration with, and with financing from, INCLUDE, the Food & Business Knowledge Platform – now transformed into the Netherlands Food Partnership – and The Knowledge Platform Security & Rule of Law (KPSRL).
The report discusses how, and to what extent, cash transfers can be an effective way of realizing food security in fragile settings. The generated insights are based on a literature quick-scan on the triad relationship, impact evaluations of existing cash transfer programmes in fragile settings, and various interviews with cash transfer experts and practitioners. A reference group consisting of researchers, policymakers, and practitioners critically reflected on the research process and presented findings.
The findings in these knowledge documents indicate that the implementation of cash transfer programmes in fragile settings has great potential to contribute to food and nutrition security and to build the resilience of the target communities. Simultaneously, implementing such programmes is highly complex and demands flexibility, sensitivity, and a willingness to learn and adapt continuously.
This report was written and published by
The Broker
, one of INCLUDE's consortium partners. Access the original publication and find out more about the collaborative research proect
here
, or download the pdf using the button to the right.